Finding and Treating the Many Causes of Chronic Fatigue and Inflammation
A professional researcher, scientist, systems engineer, and former RA sufferer presents proven benign treatments that could banish your chronic pain and other rheumatic symptoms forever.
By Dr. Katherine M. Poehlmann, PhD About the author
ISBN 9781469949239 Feb 07, 2012 496 pages, trade paperback, $19.95
Satori Press: PO box 7009 Torrance, CA 90504
The 3rd  updated, revised, expanded edition of Rheumatoid Arthritis: The Infection Connection
<![if !supportEmptyParas]> <![endif]>
Foreword by Dr. Harold W. Clark, author of Why Arthritis?
<![if !supportEmptyParas]> <![endif]>
Appendices by Dr. Joseph Mercola and Dr. Garth Nicolson, Institute for Molecular Medicine
· Special Appendix II written by Dr. Mercola, for doctors in peer language describing Dr. Thomas McPherson Brown's scientifically proven antibiotic protocol. Readers who wish to try this treatment are encouraged to show this text to their health practitioner. This Appendix uses Fibromyalgia as an example of the protocol.
· Dr Nicholson wrote the highly useful appendix on dietary modifications useful in combating chronic infections and their symptoms.
<![if !supportEmptyParas]> <![endif]>
<![if !supportEmptyParas]> <![endif]>
This scientifically proven regimen has a 30-40% probability of complete remission and a 70-80% probability of significant reduction of symptoms.
-- Arthritis Center of Riverside
<![if !supportEmptyParas]> <![endif]>
<![if !vml]>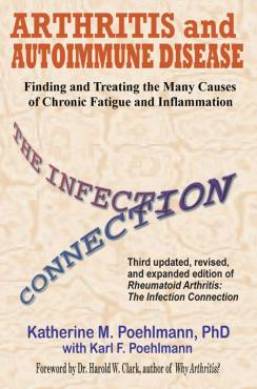 <![endif]> I recommend this book as a practical, well researched presentation of both conventional and unconventional treatments.
 --- Dr. Gabe Mirkin, M.D.  Immunologist, Radio talk show host, Author
<![if !supportEmptyParas]> <![endif]>
This Book's Reviews (see above)    How to Order
Medical/Technical Reviewers         Librarians 25% Discount
Table of Contents Index    Bibliography
Endnotes Over 1000 citations, many with active URL links.
Helpful Health Resources:
Recommended practitioners and labs
Research Websites Helpful Affiliated Websites
Health Articles Find Good Health Books
Diagnosis-Checker Ongoing Research
Case Histories H.W. Clark Memoriam
About the author      Dr. Poehlmann's events log
<![if !supportEmptyParas]> <![endif]>
<![if !supportEmptyParas]> <![endif]>
Synopsis of Arthritis and Autoimmune Disease: The Infection Connection
Inflammatory diseases are caused and/or complicated by microbes, toxins/allergens, vaccines, and inadequate nutrition.
This well-documented analysis asserts that rheumatoid arthritis (RA) and autoimmune illnesses are caused by polymicrobial infection colonies. When the infections trigger allergic reactions, it appears that the body's immune system has turned on itself. Once the cause of the infections and allergies are identified and removed, painful arthritis symptoms will decrease and likely disappear as long as the body's collective systems remain in balance.
Infections including mycoplasma bacteria and all kinds of other pathogenic microbes have been shown to be persistent co-factors in many autoimmune disorders besides Rheumatoid Arthritis. These colonies aggravate painful sites of injuries that fail to heal. Hallmarks of microbial infections include calcification, joint pain, inflammation, bursitis, sweats, and chronic fatigue. Fatigue is an indication of a systemic infection and of cellular chemical and energy dysfunctions caused by the microbes that have invaded our cells. They are stealing energy and oxygen as they disrupt our cellular bio-chemical functions.
Examples of so called Autoimmune conditions are: Allergies (food and environmental); ALS (Lou Gherig's Disease); Alzheimer's; Autoimmune and rheumatic conditions; Autism/ASD; Arthritis (all forms—rheumatoid, osteoarthritis, psoriatic, reactive, septic, Ankylosing Spondylitis, juvenile RA, gout, and many more); Bursitis (and tendonitis); CFS/CFIDS (Chronic Fatigue Syndrome); Drug/vaccine induced immune hypersensitivities; Fibromyalgia (including backache and muscle pain); Gastroesophageal Reflux Disease (GERD); Gulf War Illness; Gut imbalance (many forms—diabetes, diverticulitis, dysbiosis, IBS, colitis, leaky gut, Crohn's disease, ulcers); Heart and circulatory conditions (atherosclerosis); Hepatitis; Lupus; Lyme Disease; Malaria; Meningitis; Multiple Sclerosis; Psychiatric disorders (bipolar, schizophrenia, depression, dementia); encephalitis; Respiratory Tract (asthma, bronchitis, COPD); Sarcoidosis; Scleroderma; sleep disorders; Tendonitis (Carpal Tunnel); Thyroid dysfunctions; Metabolic Syndrome; Tuberculosis; Urinary Tract illness (cystitis, prostatitis).
This book describes scientifically proven antibiotic, antimicrobial, antitoxin and antiinflammatory treatments, along with nutrition and diet methods to strengthen the immune system. This is a combination that offers a viable alternative to the dangerous immune-suppressing drugs that are now being discredited as a single drug cure. Unlike incomplete medical treatments for RA, these combined protocol components treat the causes (microbes and toxins) and the symptoms (inflammation and oxides) together, not just temporary relief from pain.
Nutrition, antibiotics, probiotics, and immune system-managing drugs can be used together to control allergies and inflammation.
<![if !supportLists]>· <![endif]>Dr Mercola's nutrition-based regimen and Dr. Brown's low-dose, long-term tetracycline antibiotic protocol is described in detail, with updates since the prior edition.
<![if !supportLists]>· <![endif]>A new appendix on vitamin C and its healing properties links to more extensive ascorbic acid information on our website. New information about the antimicrobial properties of saturated fats proves that they are essential, not harmful as was believed before.
<![if !supportLists]>· <![endif]>Web pointers are provided to descriptions of other successful, multi-antibiotic, and nutritional protocols.
<![if !supportLists]>· <![endif]>This book provides the latest information on alternative medical treatments that supplement conventional treatments for controlling and eliminating chronic infections.
Footnote references and citations in Endnotes for each chapter are located at our website with active Internet hot links to many of the source documents. Endnotes cite more than 1,000  relevant sources.
The best health research and resource websites are listed in tables. These tables (7 and 8) are also found on our website with active hot links to each recommended site.
From the Book's Cover:
Everything you need to know before consulting your doctor!
<![if !supportEmptyParas]> <![endif]>
In this book you will discover:
<![if !supportLists]>· <![endif]>Persistent infections caused by microbes that invade epithelial and immune cells, causing or exacerbating many rheumatic and so-called autoimmune conditions and diseases.
<![if !supportLists]>· <![endif]>How microorganisms cause autoimmune diseases like Rheumatoid Arthritis
<![if !supportLists]>· <![endif]>The microbes: bacterial CWD L-forms, mycoplasmas, viruses, molds, spirochetes, fungi, and more;
<![if !supportLists]>· <![endif]>Their role in other illnesses characterized by Inflammation and Chronic Fatigue such as Arthritis, MS, Lyme Disease, Diabetes, Autism, COPD, bladder and gut disorders;
<![if !supportLists]>· <![endif]>How slow-growing persistent infections lead to premature aging and Alzheimer's;
<![if !supportLists]>· <![endif]>Ways to suppress these pathogens and destroy the toxins they produce;
<![if !supportLists]>· <![endif]>How to control allergies that trigger histamine reactions and cell damaging oxide production;
<![if !supportLists]>· <![endif]>Ways suggested by clinicians to strengthen the immune system using diet and other natural, non-toxic methods;
<![if !supportLists]>· <![endif]>Pointers to ongoing medical research on our website and to other Internet sites for resources, support groups, and study citations.
<![if !supportLineBreakNewLine]>
<![endif]>
Website extensions of our books:
Our book support website has been augmented to include new material under Bibliography,  Case Histories,  Endnotes,  Free Health Articles,  Ongoing-Research, Recommended Books and Resource/Research Website Tables.  Research summaries are in place as they are written.
The website contains a variety of links to reference material collected, with contents tables, and organized by various topics relating to Specific diseases, Infections, Case-histories, Protocols, Support websites, Nutrition, Vaccine issues, Drug issues, etc. 
The future Kindle edition of AAID will link to these website resources in HTML or PDF formats if you have a WI-FI connection.
<![if !supportEmptyParas]> <![endif]>
Communications with the Author:
Dr. Poehlmann does not do personal counseling but will answer brief questions relating to her research. Please address all comments and correspondence, including requests for quantity discounts to libraries and support groups, by email to kpoehlmann@RA-Infection-Connection.com or write to: K. Poehlmann, Satori Press, P.O. Box 7009, Torrance, CA 90504.
A message from Dr. Poehlmann: Please join me in helping others.
My goal is to help victims of RA and other chronic diseases to restore their health. For those who cannot afford to purchase the book, free access to the information it contains should be provided by the local library. Please recommend to your librarian that s/he acquire this book for their collection, and suggest that s/he peruse this website: www.RA-Infection-Connection.com
Librarians: Purchase our books via our Create Space Bookstore.
CreateSpace.com (Amazon) now has the 2nd edition, Rheumatoid Arthritis, available via Print-on-Demand at a list price of US$19.95, Amazon.com discounts may vary.
Rheumatoid Arthritis $ 14.95 for US customers using code 6Y5V8BQL
Arthritis and Autoimmune Disease  $ 19.95 On Amazon.com discounts may/not apply.
Arthritis and Autoimmune Disease   Webstore Special: $14.96 US customers use code 6Y5V8BQL
<![if !supportEmptyParas]> <![endif]>
<![if !supportEmptyParas]> <![endif]>
A major portion of book profits (after taxes) are donated to support infection research and other nonprofit medical foundations.
<![if !supportEmptyParas]> <![endif]>
<![if !supportEmptyParas]> <![endif]>